Welcome
Join us in the heart of the Napa Valley for Sequoia Grove Winery's Terroir Tasting Experience. Learn the Sequoia Grove history, viticulture and winemaking practices and how the terroir of prominent Napa Valley AVAs is reflected in our wines. From there, you enjoy tasting vineyard-designate wines expertly paired with seasonal dishes prepared by our in-house wine and food expert, Chef Britny Maureze. You'll enjoy your intimate tasting experience with no more than 16 guests seated in our beautiful Cambium Room overlooking our grove of towering Sequoia trees.
Get an inside look at Sequoia Grove Winery
Featuring
Educational Pairings
Experience an educational wine and food tasting with delightfully unexpected pairings. Taste single-vineyard wines highlighting their exceptional terroir paired with selected bites to heighten the flavors of the wine.
Award-Winning Experience
Chef Britny has built a 5-star, award-winning experience with a focus on enhancing the enjoyment of Cabernet Sauvignon through both traditional and non-traditional wine and food pairings.
Gorgeous Locale
Enjoy this intimate tasting seated in our beautiful Cambium Room overlooking our grove of towering Coastal Sequoias, from which we take our name, that has stood for more than a century.
On-Site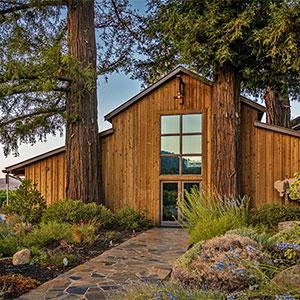 Wineries
Sequoia Grove Winery
Insider Tips
Our menus change seasonally so no experience is ever the same, explore them all year round.
Get an up-close look at each of our varietals and the winegrowing process in our demonstration vineyard.